RD Overseas
Regular price
Rs. 1,650.00
Regular price
Rs. 1,900.00
Sale price
Rs. 1,650.00
Unit price
per
13% off
Sold out
Offers
50% Cashback up to ₹100 on Airtel Payment Bank
Upto ₹25 Cashback on Amazon Pay Wallet
Get 5% Cashback up to ₹500 on Simpl
Get it between -
Product Description :
The RD ORVM Relay is a game-changing addition to your car, improving convenience and safety for outside rear-view mirrors. It enables automatic folding and unfolding of mirrors when locked or unlocked without the need for complex wiring changes. Its coupler-to-coupler design ensures easy installation, making it ideal for beginners. Experience enhanced peace of mind, protection, and effortless mirror control.
NOTE: The product is compatible only with cars that have motorised ORVM
Suitable for following makes of car:

Maruti Suzuki
Toyota
Hyundai
Honda
Free Shipping

Easy Returns

Secure Checkout
Assured Warranty

Trusted Products

25 Years Expertise
View full details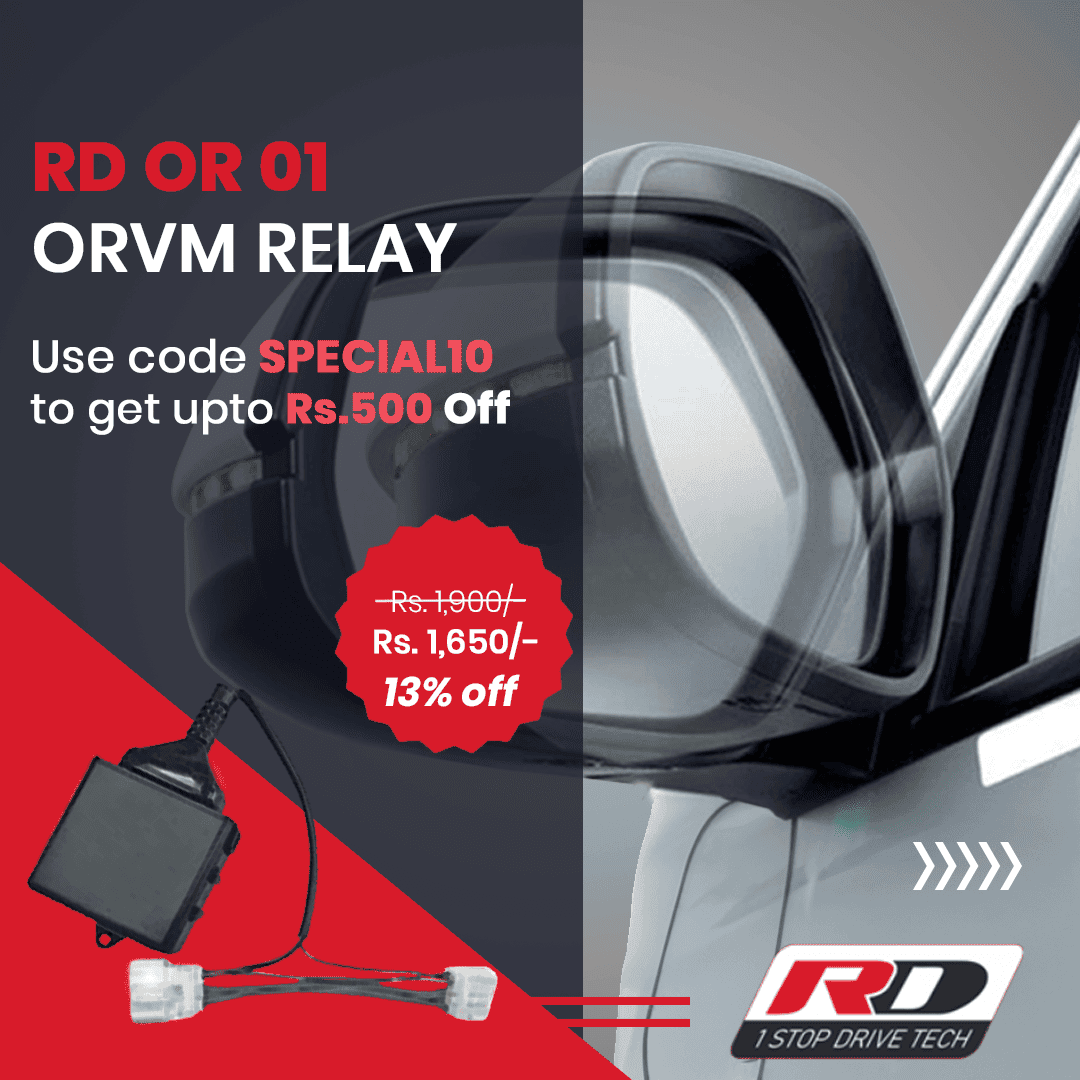 Key Features
Enhanced Automotive Safety

RD ORVM Relay ensures precise mirror adjustment, enhancing visibility during parking, lane changes, and challenging conditions.

High-Quality Reliability

Durable design for reliable, long-lasting ORVM performance in varied driving conditions. Quality components guarantee durability.

Efficient Mirror Adjustment

RD ORVM Relay offers efficient, precise control, ensuring optimal mirror angles for parking, lane changes, and challenges.
Key Benefits
Automated Mirror Folding and Unfolding

ORVM Relay automates folding when locked and unfolding when unlocked, ensuring convenient and safe mirror operation.

No Complex Wiring Alterations

It simplifies mirror control, eliminating costly wiring changes, for hassle-free automated mirror adjustments.

Elevate Your Driving Experience

The RD ORVM Relay improves driving with peace of mind, mirror protection, and effortless folding/unfolding for convenience.

Coupler-to-Coupler Fitting

The design maintains wiring integrity, ensuring a secure, reliable connection without compromising electrical components.

User-Friendly Installation

Installation is user-friendly, enhancing convenience and safety without needing expertise, suitable for all experience levels.

Universal Compatibility

Its universally compatible, providing convenience and safety benefits for all vehicle types, including cars and SUVs.
Frequently Asked Questions
What is an ORVM relay, and what does it do?

The RD OR-01 adjusts your Outside Rear View Mirrors for better visibility while driving.
Is the RD OR-01 compatible with my vehicle?

RD OR-01 suits many vehicles, but consult specs or manufacturer/service center for precise compatibility details.
How does the RD OR-01 contribute to road safety?

RD OR-01 enhances safety by enabling precise ORVM control, eliminating blind spots, and ensuring a clear traffic view for safety.
Can I install the RD OR-01 myself, or do I need a professional technician?

Installation depends on vehicle make and model. Seek professional technician or electrician for safe, precise installation.
Is the RD OR-01 durable and reliable?

RD OR-01 is durably designed, featuring quality components for reliable performance, even in challenging driving conditions.
Can I adjust my ORVMs manually without the RD OR-01?

RD OR-01 provides efficient and accurate electronic mirror control, enhancing convenience compared to manual adjustments in most vehicles.
25 Years of Commitment to Quality
Our Establishment Boasts 25 years of Expertise and Experience Promising Commitment to Quality and Reliability.